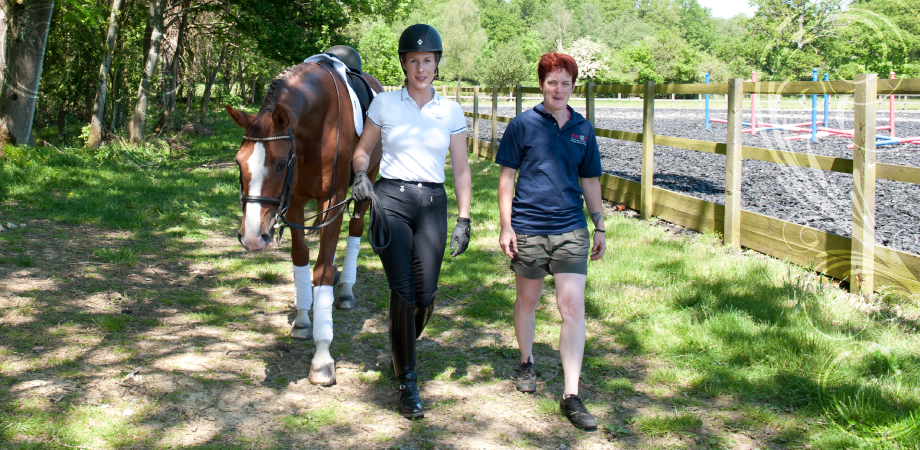 Testimonials
Sarah is an outstanding talented trainer...
"...with a clear concise and effective way of teaching. Her keen eye and understanding of Biomechanics and the effect of the rider's position has enabled me to build up my strength and improve my riding after two years out of the saddle due to arthritis. All this is given with patience and a warm sense of humour. Sarah has my highest recommendation." H.W. (Listed Judge)
Sarah was recommended by a friend and is an excellent instructor, she really has an amazing skill of actually being able to teach...
"...I am a novice rider and she immediately put me at ease. She has great knowledge and she imparts this in a way that is easy to understand. She never talks down to you and never makes you feel stupid if you don't grasp something immediately. She allows you time to get to grips with things and sets realistic goals, which she then encourages and assists you to achieve. Sarah explains things clearly, using sports psychology and good humour to make her teachings stick. Sarah is brilliant and has made me enjoy having lessons again." A.D.
I first heard of Sarah through one of my friends who can't speak highly enough of her...
"...When I moved yards, it was a new start for myself and my horse so thought the best way to kick that off was to have a lesson with Sarah. My first lesson with her was in October 2014 and since then have never looked back. The amount of confidence and skill that I took away from just that one lesson was more than I had taken away from what seems like hundreds of lessons previously with other instructors! Over the last year and a half, mine and my horse's skill, confidence and bond has grown immensely and continues to do so. We are both so much more happier in the work that we are doing now, for starters because I am riding as I should have been for years...with more balance, less kicking (!) and precision. Sarah not only teaches in the lesson but always leaves me with so many tips and food for thought, including key exercises to work on which builds up my self-esteem too when I complete an exercise correctly. Sarah has been a god send for me and my horse and I cannot recommend her enough. I can't wait for our next lesson!" C.B.
As a person, Sarah is incredibly enthusiastic, friendly and knowledgeable. She explains things in a way that is very easy to understand.
I'd seen social media posts about lessons on the simulator and always thought it looked interesting, but was sceptical as to how beneficial and realistic it would be. I knew I have a few faults with my riding position, which the simulator and Sarah very quickly picked up. The great thing about a lesson on the simulator is that we could work out what my body was doing, why and how to fix it. Having the ability for your instructor to be able to move you physically while you're riding is a real bonus and a quick way to learn. The lesson also picked up some things I didn't realise I was doing which was great. The half hour flew by and I felt my head may explode with the information.
Moving forward and trying to practice what I learnt is always the challenging part. Sarah has proved to be fantastically supportive, I called her when I had some questions regarding the simulator lesson and she was very open to discussing and helping me understand. Since the simulator lesson I booked a lesson with Sarah on my own horse which allowed me to practice what I learnt and also learn from Sarah's vast experience. I would highly recommend both a simulator lesson and a riding lesson with Sarah - after many years of riding I feel I have learnt a lot in my two sessions with Sarah.
Since starting lessons with Sarah I have gained so much confidence with my horse...
"...Having brought my horse back from an injury she has helped me build strength and muscle and learn to work in a happy manner all in a fun, relaxed and humorous way. My scores have improved so much when out competing and Sarah has really taught me how to warm up and ride a test to the best of my ability. I look forward to each and every lesson and love feeling that when we have finished we have achieved so much but always with plenty of gas still left in the tank! Thank you Sarah for helping me get the best out of my horse, I look forward to many more lessons." E.M.
Sarah is quite simply the most friendly, generous, kind hearted and knowledgeable instructor I have ever had the pleasure of working with...
"...She explains new concepts and ideas with patience and understanding. New challenges are approached with a smile and positivity but with the understanding that as a rider I will always give my best effort, however demanding the task may be in that specific moment. With Sarah at my side, I am so excited to ride both in training and in time at competitions to show everyone what I can do." Y.P. (Para Rider)
The list of people who had told me to write-off my horse is sadly endless...
"...and the number of people who could see beyond his behavioural issues and racehorse confirmation, too few to mention (if I'm honest I'm not sure there were any, just a handful who were a bit more polite than the rest). I came to Sarah for help on the dressage side of our eventing ambitions. A typical jumper who does the dressage bit because you have to. But what I have found in dressage with Sarah is something so exciting, I don't think jumping can come anywhere close. And what I now believe is that there is no such thing as a difficult horse, only riders that have no idea of the confusing messages which they are sending their horse - which are often so subtle to a rider they go completely over looked. Yet to the horse they are loud and frustrating. So, my horse now? We've gone from being lucky to have a ride without a buck or a handstand to winning riding club dressage. And in my upside down, over sensitive ex-racehorse we've found a dressage horse who loves to work and learn to move in ways his body probably shouldn't allow." R.B.