International Grand Prix dressage rider, Sarah Sjoholm-Patience
world class rider, trainer and coach, passionate about developing horses and riders to reach their full potential. German trained, her sights are firmly set on competing at the Olympics and World Equestrian Games.
From happy hackers to competitive riders, Sarah works with all levels of horse and rider to improve their flatwork and competitive dressage. She is driven by the belief that the rider's position and consistency are the keys to better communication between horse and rider. Sarah creates personal training plans to allow both horse and rider to develop at their own pace. She nurtures a friendly and supportive atmosphere whilst providing professional coaching that takes the needs of each individual rider into account.
Struggling to find the right equine partner? Have you been searching for a while and not found the right horse or you just don't know where to start looking? Or perhaps you have found a horse you are keen on but want an expert opinion? Sarah offers horse shopping to help you find the horse that is just right for you.
Combining Sarah's keen eye for positional corrections with the analytical data from the full sized mechanical horse, riders can achieve rapid improvements in balance, co-ordination and skill.
Riders of all levels can work on improving and monitoring their performance on a real-time basis, in a way that easily transfers to the work on their own horse or during their riding lessons.
Clinics with Sarah are an ideal opportunity for those riders unable to access regular coaching with Sarah. This can be for any number of reasons such as location, or for those riders regularly working with other coaches but looking for a different perspective.
Combining years of experience in producing horses from young horses through to competing for Canada on the International Grand Prix circuit, Sarah possesses all the necessary skills and experience needed to get the best out of your horse in the show ring.
Sarah is currently working from the beautiful Dragons Livery, Dragons Stud, Bakers Lane, Horsham, RG13 8GJ. Here she takes horses on a full training basis as well as offering her coaching and training services on a freelance basis.:
In addition to the training on offer at Dragons Livery, Sarah is still able to offer training at your yard (within a reasonable travel distance).
Coaching riders of all levels and across all disciplines, from beginners to riding club and high-level competitors, Sarah is passionate about getting the best out of the combination placed before her.
Sarah is also one of the few Para-dressage coaches in the region.
Sarah rode her first Prix St George at 14 – gaining special permission from Equestrian Canada to compete in the Young Riders class as there was no FEI Juniors programme at the time. At 16 Sarah went on to compete at the 1995 North American Young Riders Championships riding Edward, an Irish Hunter. She then trained up a younger horse but had a car accident before she could make another Young Riders run. Unfortunately this forced her to take a couple of years off riding.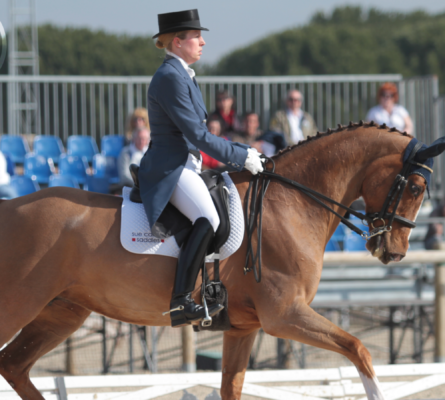 British Dressage CC Level 2 Coach
British Dressage Trainer
British Dressage Para Coach
British Horse Society Accredited Coach
Equine Canada Certified Competition Coach
Centre10 Advanced Coach
Sarah runs her own yard in The Haven, near Rudgwick, West Sussex. Here she offers livery options including in-training, schooling and competition livery. She also uses her yard as a base to offer a range of clinics with other equestrian experts including rider analysis, human physio and equine osteopathy as well as regular visits by equine dentists, saddle fitters etc.
Testimonials
Some words from my beautiful clients